About Napier

Away from the Worlds great population centres of Europe and America lies Napier, a small city which is unique in New Zealand and the World. It is situated on the temperate East Coast of the North Island in the South Pacific Ocean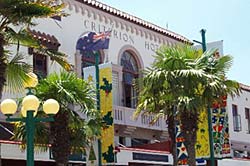 The city is a popular holiday resort for New Zealanders and for Overseas visitors offering many attractions and is often referred to as the City of Palms
In February 1931 the City Centre was devastated by a disastrous earthquake which demolished much of the Central Business District and which over the next few years was completely rebuilt in the Art Deco and Spanish Mission styles of the day with inspiration being taken from the North American Architects of the day such as Frank Lloyd Wright, the Chicago School of Architecture and local Architect, Louis Hays.
This heritage has been preserved by the Napier Art Deco Trust and attracts visitors from all over the World especially during February each year when the Art Deco Weekend is held to enjoy and celebrate this heritage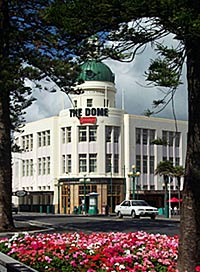 The city is the centre of the Hawkes Bay region which is one of the largest fruit and produce growing areas of New Zealand, not to mention the numerous world class vineyards which abound in the area producing all types of varietal wines.
The Marine Parade is famous for its avenue of Norfolk Pines and it is along the Marine Parade that can be found the new Heated Saltwater Baths, the Conference Centre, Marineland and the National Aquarium of New Zealand.
A short distance from Napier can be found Cape Kidnappers the largest mainland Gannet Sanctuary in the World.
Napier is serviced through the Hawke's Bay Airport by Air New Zealand and several other carriers with flights from both Auckland and Wellington taking 60 minutes.
By car or coach, State Highway 2 passes through beautiful rural landscapes. From Auckland, Napier can be reached using either the coastal Pacific Highway or the Thermal Highway passing through Rotorua and Taupo.
We invite you to look at our 'Napier Attractions' pages for links to Art Deco, Wineries, Tanneries and many other Hawkes Bay attractions.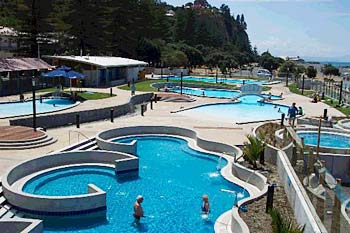 Salt Water Pool complex situated on the Marine Parade opened in January 2003